It's probably a good thing that I went to Joann's today. If I hadn't, I'd still be lusting after that bubblegum pink satin that was on sale a few weeks ago. I discovered today that the stuff is gone, sold out, not be be brought back again until next fall, so I'm in the clear! Unfortunately, there was this
amazing
satin taffeta in the same colour, at 10 times the price, so now I'm sitting here waiting for my next email coupon to arrive so I can contemplate a new Rococo gown that I don't need. x.x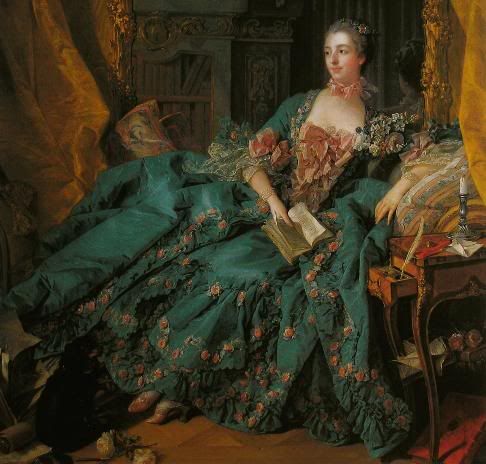 In other news, that bolt of red satin that I bought a few months ago is laughing at me. It needs to be made into something, and quick, and I'm leaning toward something like this :
Yes, I know, it's a very well known portrait. But look at all those wonderful details, those lovely little flowers and all that! I'm going to try my hand at drafting my own bodice this time around, get away from using commercial patterns as a base for everything.
I'm also thinking about making a new gown for the upcoming spring season. While looking through
demodecouture
, I came across the gaulle that she had made in 2007, and it looked so comfortable and light, that now I want one for myself. I'm not setting it in stone, especially since there's absolutely no room in the budget for it, but if I
do
happen to find that white georgette that's hiding in the garage somewhere, I know what it'll be used for.
There's also a Bastille Day picnic being planned out for next year, but nothing's concrete yet. More on that when details are set down.